The Official Wintergirls Page
Just in—all the cool goods for students and teachers for Laurie Halse Anderson's new book!  WOW!
Wintergirls via kwout
Post navigation
Archives
Search This Blog
RSS Feeds
Scenes from The Unquiet Library
About This Blog
This blog is maintained by Buffy Hamilton, The Unquiet Librarian and Media Specialist at Creekview High School.
Best Library/Librarian Blog Edublogs 2009 Nominee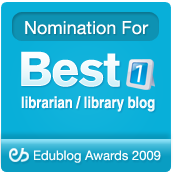 Categories