July 14: Readergirlz Chat TONIGHT with Ally Carter!
readergirlz via kwout
You don't have to be a Twitter tweep to follow tonight's Readergirlz chat with the amazing Ally Carter!  Click here to get the scoop—the chatter cranks up at 9PM EST!
Post navigation
Archives
Search This Blog
RSS Feeds
Scenes from The Unquiet Library
About This Blog
This blog is maintained by Buffy Hamilton, The Unquiet Librarian and Media Specialist at Creekview High School.
Best Library/Librarian Blog Edublogs 2009 Nominee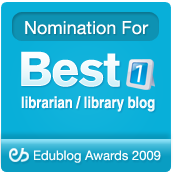 Categories